Recollection is a project to review my record collection. I will listen to an album I own and review it. The album will be chosen randomly by computron. Today computron chooses…
Album: Real Love
Artist: The Beatles
Released: 1996
Format(s) I own it on: CD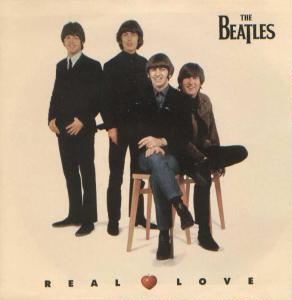 This four song CD single was released in 1996 along-side The Beatles' collection of bootlegs and rarities. The Anthology project was huge. My family watched the documentary as it aired on ABC, I bought the VHS box set and watched it over and over and over again. I bought all three double-disc Anthology CD sets. When I was in Vancouver, I saw a record store selling both the CD single for Free As A Bird and Real Love.
Those two songs were recorded from demos made by John Lennon. These unfinished songs were handed to the surviving Beatles by Lennon's widow Yoko Ono. After Lennon's murder on December 8, 1980, there was no hope The Beatles could ever reunite. There's absolutely no way The Beatles could exist without John Lennon. The Beatles were John Lennon, Paul McCartney, George Harrison, and Ringo Starr and without one of them, it wouldn't be The Beatles.
This was the next best thing. A home recording of John Lennon's which surviving The Beatles could clean up and overdub onto. The final result was… okay. It's a good song. It's not brilliant, but it's a good song. Is it as good as the output that made the band legendary, probably not, but it's enjoyable.
The three B-sides on the record are a live rendition of "Baby's In Black" which is often overwhelmed by the screaming of teenage girls, a remix of "Yellow Submarine," and a basic track of "Here, There and Everywhere."
"Baby's In Black" was recorded at Hollywood Bowl in 1965, but that song wasn't included on the American released Live At The Hollywood Bowl. Lennon introduces the song in a very John Lennon fashion.
The remix of "Yellow Submarine" puts the sound effects more prominent. It's not anything you'd want to listen to when you have the proper release of the song.
"Here, There And Everywhere" is a stripped down recording. Paul McCartney's guiding vocals really illustrate how sweet his voice is. There's a few bum notes on the recording, but you can really see what makes McCartney one of the great songwriters and singers. Near the end of the song, the Beatle harmonies come in and prove just how good those Beatles really were.
 25.625 (78%) |
 7.375 (22%)
CD: 18.5 (56%) | Vinyl: 11.5 (35%) | Digital: 0 (0%) | 7″: 2 (6%) | Box: 1 (3%)
1960s: 4 (12%) | 1970s: 2 (6%) | 1980s: 1 (3%) | 1990s: 9 (27%) | 2000s: 16 (48%) | 2010s: 1 (3%)
 9.8 (30%) |
 14.2 (43%) |
 7 (21%) |
 1 (3%) |
 1 (3%)
 4 (40%) |
 1 (10%) |
 3 (30%) |
1 (10%) |
0 (0%) |
0 (0%) |
0 (0%)

0 (0%) |
0 (0%) |
1 (10%) |
0 (0%) |
0 (0%) |
0 (0%)