Recollection is a project to review my record collection. I will listen to an album I own and review it. The album will be chosen randomly by computron. Today computron chooses…
Album: Californication
Artist: Red Hot Chili Peppers
Released: 1999
Format(s) I own it on: CD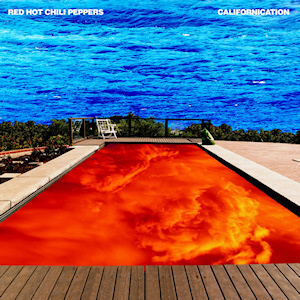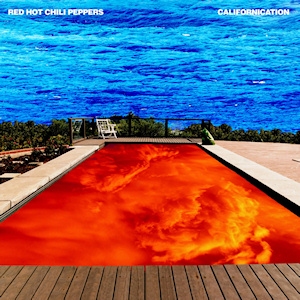 I'm not a Red Hot Chili Peppers fan. I do remember when Californication came out, and a number of the songs were huge hits. I liked the title track and "Scar Tissue" but not enough to actually purchase the album. This album made its way into my collection, as it was sitting in my apartment building's book exchange. I figured free was a good price for two decent songs. Beyond those two songs, this is the first time I've listened to the record.
Californication almost seems like a pop-parody of the Red Hot Chili Peppers' sound. If I were a fan of the band, I would probably be disappointed with this album's sound, but as someone who knows their hits and ignores the rest, meh, it's okay.
The Red Hot Chili Peppers sound is kind of painful. It's all attack, at all times. They often forget the melody in favour of a pounding bass and drum, which is strange for songs so poppy.
It's actually a hard album to sit through. All the good songs are on the first side, and most of them aren't THAT good.
Highlights
I still have no idea what Anthony Kiedis sings in "Scar Tissue," but I don't think it matters. The melody is pretty, and it's a catchy song to mumble along to.  Oh, Google tells me it's, "With the birds I'll share this lonely view." I guess that makes sense. *shrugs*
Lowlights
"Get On Top" is terrible. Absolutely terrible.
I think it I was a Red Hot Chili Peppers fan, I might enjoy "Around The World," but no. It's terrible.
"Emit Remmus" sounds like it could be a Mighty Boosh song.
 26.625 (78%) |
 7.375 (22%)
CD: 19.5 (57%) | Vinyl: 11.5 (34%) | Digital: 0 (0%) | 7″: 2 (6%) | Box: 1 (9%)
1960s: 4 (12%) | 1970s: 2 (6%) | 1980s: 1 (3%) | 1990s: 10 (29%) | 2000s: 16 (47%) | 2010s: 1 (3%)
 9.8 (29%) |
 15.2 (45%) |
 7 (21%) |
 1 (3%) |
 1 (3%)
 4 (40%) |
 1 (10%) |
 3 (30%) |
1 (10%) |
0 (0%) |
0 (0%) |
0 (0%)

0 (0%) |
0 (0%) |
1 (10%) |
0 (0%) |
0 (0%) |
0 (0%)