Recollection is a project to review my record collection. I will listen to an album I own and review it. The album will be chosen randomly by computron. Today computron chooses…
Album: The Life Pursuit
Artist: Belle & Sebastian
Released: 2006
Format(s) I own it on: CD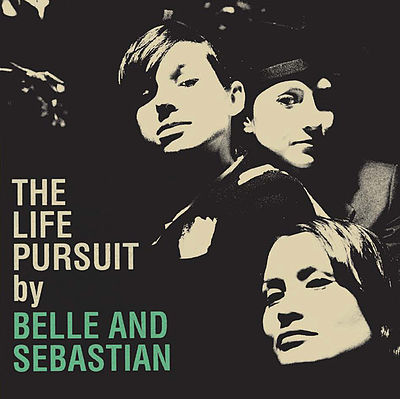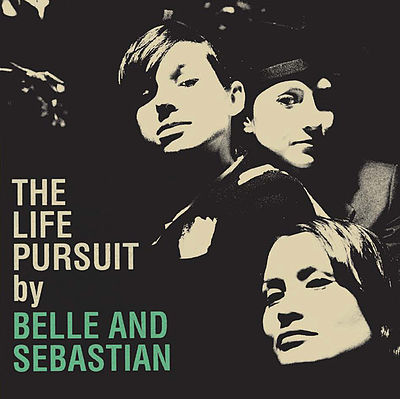 Belle & Sebastian's 2006 album The Life Pursuit was well into their career. It was over a decade since Stuart Murdoch had put the band together and masterminded Tigermilk, and album that can be best described at "perfect."
By this point, the band had a pretty loyal following, they were sure who they were, and found a way to incorporate the other members in leading roles. Violinist Sarah Martin and guitarist Stevie Jackson take their turn with songwriting. The three of them harmonize together to create a lush sound.
The Life Pursuit can best be described as pop. "Sugary sweet" would be pretty apt. Though Murdoch isn't the only songwriter in the band at this point, he is the band leader for a reason. His songs are the standouts.
The three singles, "Funny Little Frog," "The Blues Are Still Blue," and "White Collar Boy" are pop mastery. These songs have such catchy melodies that would dare any ass not to move to the rhythm.
While I love this record, it is not without its faults. Jackson's songwriting ability seems to slip, and the album goes on a bit too long, fizzling out at the end.
Highlights… this is gonna be long.
"Funny Little Frog" is undoubtably the best song on this record. Murdoch sings about the how wonderful unrequited love can be. There's no expectation that can be let down, as Murdoch describes a perfect relationship with someone he's never even met.
A love story between two convicts from different backgrounds, "White Collar Boy" is an insanely well craft pop song. The call and answer structure to the song has been done many times before, but they do this well.
"The Blues Are Still Blues" is just damn good. Singalong, trust me, it's worth it. Even if you can't sing, like me, singalong. You'll have a good time. This is probably the best song ever written about laundry.
How can you not love "Sukie In The Graveyard?" Once again, Murdoch is singing about an outsider. The entire band comes together almost perfectly. With Mick Cooke's trumpet playing and orchestration, Murdoch's vocals, Bobby Kildea's fabulous bass line, and Richard Colburn's great drumming… but what is with that horrible guitar solo from Stevie Jackson?
"Dress Up In You" is the tale of a woman who feels alienated by her friend who was more successful than her. They had expected the make it big together, but instead the protagonist sings about her jealousy, disappointment, and anger. Murdoch takes lead vocals on this song, rather than passing them to Sarah Martin. Martin, who does provide backing vocals often doubles Murdoch's vocals. Her very high voice fills out the soundscape nicely.
Did you ever want to hear three-part harmonies singing "the ref are giving us fuck all?" Then you're in luck, as "Another Sunny Day" delivers. This song is a perfect highlight of Stuart Murdoch's beautiful, but slightly strange vocals, complimenting it is a catchy riff played masterfully by Jackson. We do have to address the elephant in the room. "Eskimo" is not an appropriate term for the Inuit. Also, that you "heard the [Inuit] remove obstructions with tones" is an oddly strange stereotype. From what I understand, Inuit generally remove the implied snow obstructions with shovels. They probably buy the shovels from Canadian Tire.
Lowlights
Stevie. No. Please no. What were you thinking? "To Be Myself Completely" is horrible, and perhaps the worst Stevie Jackson song.
"For The Price Of A Cup Of Tea," however, is not horrible. It's a decent song. It's just middling and put at the point in the album where it should have ended already. "Act of the Apostle II" should have been the end of the record.
"Mornington Crescent" is about a disused tube station in London. Apparently Murdoch like to fantasize about what's outside of that station. London's version of "Bessarian," I guess. It's actually a really pretty song, but it's so slow, and doesn't move at all, while I enjoy the song, within the first minute I'll often be so tired of the song that I'll just move on to another album.
 24.625 (77%) |
 7.375 (23%)
CD: 17.5 (55%) | Vinyl: 11.5 (36%) | Digital: 0 (0%) | 7″: 2 (6%) | Box: 1 (3%)
1960s: 4 (13%) | 1970s: 2 (6%) | 1980s: 1 (3%) | 1990s: 8 (25%) | 2000s: 16 (50%) | 2010s: 1 (3%)
 9.8 (31%) |
 14.2 (44%) |
 6 (19%) |
 1 (3%) |
 1 (3%)
 4 (40%) |
 1 (10%) |
 3 (30%) |
1 (10%) |
0 (0%) |
0 (0%) |
0 (0%)

0 (0%) |
0 (0%) |
1 (10%) |
0 (0%) |
0 (0%) |
0 (0%)