Part One
Wow, they layering of video is not very Doctor Who. And it looks horrible.
I'd say those outfits are rip offs of Deep Space Nine uniforms, but this is a decade earlier.
Peri screams as much as Susan.
Android rebels???? YES!
OH DAMN! I thought the red ones makde it look like DS9 uniforms. Now there are yellow and blue.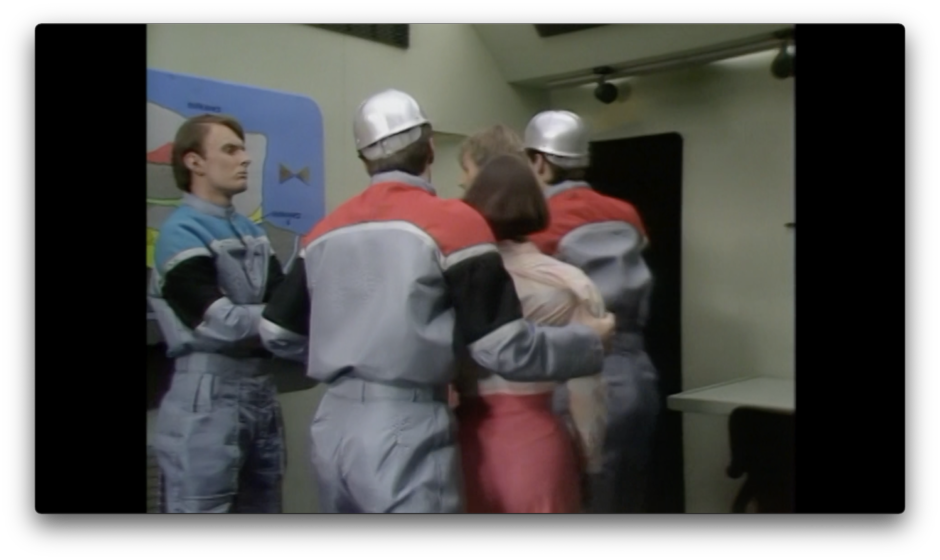 And the Doctor just introduced Peri as Perpugilliam Brown. Someone was dropping acid when writing.
I hate close-talkers.
"Suggests I take 0.3 of a centilitre every day." If you're going to put in decimals and use a non-frequently used measurement of a litre, might as well just day 3 millilitres. or 0.03 decilitres.
Oh yeah! This is the S&M story with the guy in the gimp mask.
Part Two
Dude in a gimp suit saying "quite content" while putting his hand on Peri is creepy, but I don't think in the way they intended.
That dude had enough time to spit out that pill before the guy started trying to force him to bite on the suicide pill.
The green part is under our control. I love that it's just a screen divided into four equal bands of different colours.
One of the stages of this death that Saltine warns the Doctor of is. TDP, Thermal Death Point. I was certain he said TVP, textured vegetarian protein.
Gah, Peri, stop screaming.
Gimp is pretty upset.
Part Three
I feel like they've used this monster costume a few hundred times before in Doctor Who.
That gimp slapping the Doctor was hilarious.
If you have a janky looking prop, don't have a closeup of it. Though the next guy looks like he's holding an iPhone.
"So I said 8 kilos, and he agreed." Made me think of Phil Wang on Taskmaster.
Part Four
The Gimp's 2D map does not do justice to the size of these worlds.
This is so dramatic, for something that doesn't deserve this drama.
Someone's really leaning hard on the Phantom of the Opera tropes.
The Doctor has known Peri just as long as he's known everyone else on this planet, he's cool with them all dying, but not Peri.
"Lisa needs braces." "Dental plan!"
Welp! That's Peter Davison. Fare thee well, good Doctor. We'll see you in "Time Crash" and then, I guess in "The Five-ish Doctors."
I liked him as the Doctor, the stories were not that great.