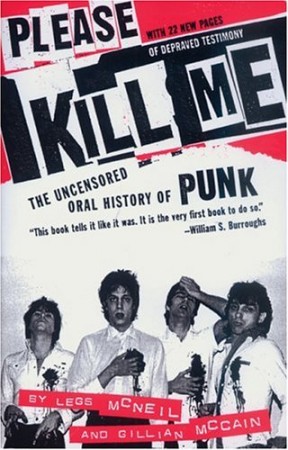 Some months back, the Blogger Brunchers were having a Yankee Swap, and with much cunning and skill, I was able to secure myself the copy of Legs McNeil's Please Kill Me, which is subtitled "the uncensored oral history of punk." A better subtitle, I cannot fathom. This book tells the story of New York's punk rock scene with no holds barred. From the early days of the Velvet Underground, Nico, and Andy Warhol's Factory, as told by those who were there, including the band members themselves.
The stories are of sex, drugs, and rock and roll. Crude, hilarious, disgusting, and entertaining.
I think as this is far from my life, or a life I'd ever want kept me from reading it quickly. I didn't have any kind of relationship with these "characters," even though I like the music, I don't necessarily have anything in common with any of the stars.
It's taken me a long couple of months to get through the book, but it's a worthwhile read, and an interesting set of tales. While I never endeavoured to learn which STIs Iggy Pop was afflicted with, I feel my life is now complete.
Please kill me.