Recollection is a project to review my record collection. I will listen to an album I own and review it. The album will be chosen randomly by computron 2.0. Today computron chooses…
Album: Original Music From The Motion Picture "The Such"
Artist: Elevator Through
Released: 1998
Format(s) I own it on: CD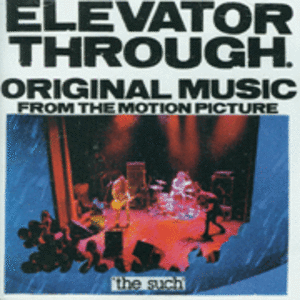 After the break up of Eric's Trip, Rick White began some home recordings under the name Elevator To Hell, eventually adding Eric's Trip drummer Mark Gaudet, and Orange Glass alumnus and White's then-wife, Tara White. Elevator To Hell eventually became Elevator Through who later became Elevator.
Elevator was one of the best psychedelic bands in Canada during the 1990s and 2000s. This is in no small part due to the fantastic rhythm section provided by Mark Gaudet and Tara White. Gaudet's drumming style is uniquely his own, he plays with a heavy emphasis on the cymbals. Gaudet doesn't have a light touch, one of the times I saw Elevator live, Gaudet broke his snare's skin. The band was performing without any breaks in the music, so the Whites jammed while Gaudet fixed the drum.
Tara White's bass playing is an attack. She knows where to go to move the song. Her bass playing is melodic where you don't expect it to be. She's damn good.
I first heard Elevator Through, specifically "The Pick-Up" on a cassette I received from someone I knew on IRC, the #sloan channel. It took me about 15 years before I finally purchased The Such. I still have this cassette, and the contents of that cassette live in a playlist in iTunes. I have no idea if the tape still plays, but sometimes I still expect it to transition between songs like that cassette, going from Belle & Sebastian's "A Summer Wasting" to Beck's "Halo of Gold" rather than the more expected "Seymour Stein."
The Such is the soundtrack to a film that I only just saw. It's on Vimeo, embedded below. It's less a film, and more a long-form music video. There are definite pieces that stand out as being from a soundtrack, including the title track, which starts with wind chimes. I first put this record on for reviewing while lying in bed with the gusts of wind blowing through my open window. The chimes brought me into this record. The chimes return throughout the record.
Highlights
My favourite is "The Pick-Up" which I was my entry to Elevator's music. It's also the most melodic of the album. Though my partner referred to it as "that album you've been listening to that sounds like Doctor Who." I think that's a compliment, Delia Derbyshire's realization of the original Doctor Who theme is an amazing feat.
"The Wink" comes in a close second. I feel it starts off poorly, but once the song gets going, it delivers.
Lowlights
"The Such" is windchimes. It's going to go here, as lovely as it was that one time, it won't be when it comes on randomly in my car.1
"Sleep Experiment No. 3" does nothing for me.
33.295 (81%) |
7.705 (19%)
CD: 24 (59%) | Vinyl: 13 (32%) | Digital: 0 (0%) | 7″: 2 (5%) | Box: 1 (2%)
1960s: 5 (12%) | 1970s: 3 (7%) | 1980s: 1 (2%) | 1990s: 12 (29%) | 2000s: 17 (41%) | 2010s: 3 (7%)
 13.8 (34%) |
 17.2 (42%) |
 8 (20%) |
 1 (2%) |
 1 (2%)
 5 (36%) |
 1 (7%) |
 4 (29%) |
 2 (14%) |
0 (0%) |
 1 (7%) |
0 (0%)

0 (0%) |
0 (0%) |
1 (7%) |
0 (0%) |
0 (0%) |
0 (0%)
Fun Story Time™: I have a two room setup with Sonos, was in my bedroom as I was finishing up this article. Pressed play, had two people in my living room yelling, "ADAM! What's going on?" Apparently I was playing the wind chimes in the wrong room. I forgot about the footnotes part of my blog, I used to have fun with that, I should bring them back. [↩]