Three dudes in a hot tub.
Ridings
Toronto-Danforth
This is my riding. I've lived here for 6 years now, and I absolutely love it. It's an amazing part of the city, and has been represented provincially throughout that time by the NDP member Peter Tabuns. Tabuns was in the running for party leader against Horwath, and it's a pity he didn't win. He's a great representative for Toronto-Danforth, and a strong voice in parliament.
During the last election, the Liberals ran a candidate who after a 10 minute chat, I determined to be an idiot. This time the Liberals seemed to care about the riding, had hopes, and were reliant on Horwath draining support away from Tabuns. They ran Rob Newman, and they were able to take a significant amount of support away from Tabuns. Hell, they got my vote. My vote wasn't a vote for Newman, or a vote in protest of Tabuns. I wanted Tabuns to continue to serve Toronto-Danforth, just that there was a chance the riding could flip red, and that would be one more riding to help secure a Liberal government.
Turns out it stayed NDP, Tabuns was re-elected, and we got a Liberal majority. So it seems win-win. Great local representation, and a competent party governing.
Thornhill
This is my other home riding. I grew up in Thornhill. Once upon a time it was a Liberal riding, but Stephen Harper's uncritical and unwavering support of Israel makes it always go Conservative. The recent provincial byelection in the riding was close, and both the Liberals and Progressive Conservatives were running the same candidates. This one was hard to watch as it kept on flipping back and forth between the two candidates.
When there were only five polls left to return, Martow, the PC candidate had one vote over Yeung Racco. It was insane to watch. Fifteen minutes later, 85 votes determined that Yeung Racco was elected as the MPP for Thornhill. Kind of crazy. While I think that this speaks a lot for the province as a whole, it really shows that the PCs have a strong base in Thornhill. The only reason they so narrowly lost was because Hudak wasn't able to extend his red tories.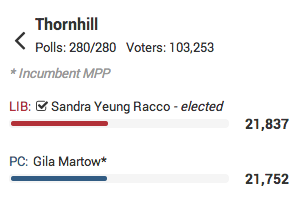 Parkdale-High Park
This was only interesting because something unexpected happened. It was a close race. A really close race. Cheri DiNovo, the NDP candidate, has been an incredible voice in the Legislature. She's stood up for Trans rights, a minimum wage raise, and poverty. She's an excellent member, and if she had lost, it would have been a true disappointment for Ontario as a whole.
Trinity-Spadina
This riding was really interesting to me because of the upcoming federal byelection. If you were to wander around downtown Toronto, you'd see so many campaign signs. Two Liberals, two NDP, a Conservative, a Progressive Conservative, two Greens, and all the fringe candidates.
This riding went to Liberal candidate Han Dong. This leads me to be hopeful that Adam Vaughan, former city councillor, will be able to win this riding that used to be held by NDP Olivia Chow.
Adam Vaughan has been an outspoken member of council. He stands up for what he believes in, and (usually) thinks before he speaks. It's a huge loss to have had him leave Council, but I cannot think of a better voice to have in Ottawa for the City of Toronto and all Canadian urban centres.
Davenport
Didn't expect Jonah Schien to lose his seat.
Etobicoke-Lakeshore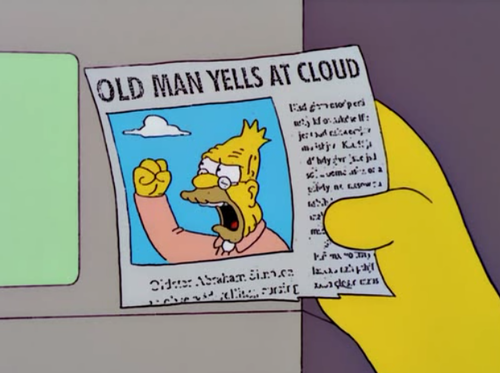 Doug Holyday spent much time yelling and screaming in City Council. In a recent byelection, he won the seat over fellow councillor Peter Milczyn. Yesterday's rematch flipped the outcome. I am very happy about this. Not because I dislike the Progressive Conservatives, but because Holyday is an idiot, an asshole, and shouldn't have a place in provincial legislature. During the debate to allow municipalities to used ranked ballots, his arguments were made from a place of ignorance. Holyday does not deserve the seat he once held.
Leaders and Parties
Tim Hudak
&

The Progressive Conservatives

This election was Hudak's to lose, and he lost it. Badly. Hudak's insistence to campaign from the far right alienated many Ontarians. He did win the debate, the was obvious, he was able to come across as a human during that debate, something I was very surprised by. I don't think anyone could have predicted this loss.

Hudak has announced he will step down. No one was surprised. If the Progressive Conservatives want to form government, they'll need to find a leader and platform that speaks to Ontarians, and going hard right will not do that.

This means one good thing, a leadership battle. One in which Doug Ford will most likely run. Then we can watch Ford get crushed. That will be a lovely thing to watch.
Andrea Horwath
&

The New Democrats

Horwath will spin this as a victory. Her party increased their popular vote, but it didn't translate into seats. The NDP held 21 seats, they now hold 21 seats. Horwath took a gamble by not supporting the Liberal budget. The Liberal budget was one of the most progressive budgets in Ontario history, and Horwath refused to support it in hopes of political gain. She went from holding the balance of power to absolutely no power. The party lost everything. Everything.

Horwath needs to step down.
Kathleen Wynne
&

The Liberals

The first out woman premier of Ontario has now lead her party through an election, and won. Most importantly, her sexual-identity and gender played no role whatsoever in the campaign. She was judged for her skills. Wynne is a skilled woman. She has proven she governs by research and intellect rather than ideology. She has faced scandal, but took measures to address it. I'm still pissed that McGuinty's office deleted data before Wynne took over as Premier, but she was the only reasonable option for Premier.
TVO
I watched TVO's coverage this year. Never watched them cover an election, but Steve Paikin is probably the best talking head on TV. I was really impressed with the PC pundit they had on. He was critical about his party, and honest. Usually you just see people shrieking their party platform, but the PC guy was intelligent about it.
The best part of the coverage was during the discussion of the size of Han Dong's win…


TVO also took their time to announce a Liberal government, and then later a Liberal majority. Seems they were the last to announce those, but honestly, I'd rather they don't rush to that conclusion and instead take their time.