Recollection is a project to review my record collection. I will listen to an album I own and review it. The album will be chosen randomly by computron. Today computron chooses… 
Album: Rock of Ages
Artist: The Band
Released: 1972
Format(s) I own it on: Vinyl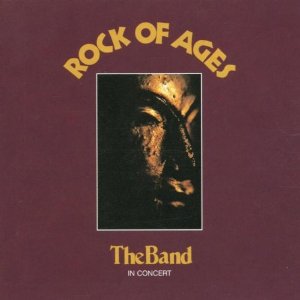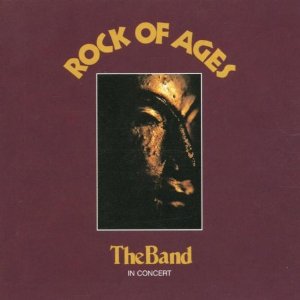 I've owned this record on vinyl for a long time… a long, long time, and never really listened to it. I like The Band, I swear, I'm just not a huge fan. Never loved them. I also don't really like live albums.
That being said, Rock of Ages is damn good!
When I first started writing this, I didn't realize that there was an inconsistency between what was on my computer and the actual vinyl sitting on my shelf, so I ended up having the 2001 version reviewed. I should've looked at the vinyl first, as reviewing every track of the 2001 release made it much more daunting.
Disc 1
1) Introduction – AA
I thought to change things up a little bit I'd ask some friends to help out. So we're going to review the record track by track with a little help from my friends.
2) Don't Do It – AA
Can't imagine a better start to this record. This sets off the tone of the record with the piercing horns as a perfect accompaniment to The Band. The pleading nature of the song and Helm's vocals allow The Band to own this cover.
3) King Harvest (Has Surely Come) – AA
I never was a fan of this song. Something about it, just never did it for me, but this live version is as good as it gets. The closing track from The Band's self-titled song, it's sung by Richard Manuel, and helps prove my theory that the songs I'm most attracted to by The Band are sung by Levon Helm.
4) Caledonia Mission – AA
Though I'm unfamiliar with the record version of "Caledonia Mission," I feel that the horns make this song. It's not the most interesting song on its own, but as the horns wind their way throughout the song, they carry the listener through the song, keeping your attention from start to finish.
5) Get Up Jake – AA
There's something truly cheesy about the arrangement of this song. It has a pretty strong Band-esque melody, but the organ kills it.
6) The W.S. Walcott Medicine Show – KF
I have to be honest: I'm sure this is a good song. It's definitely enjoyable. But compared to "Rag Mama Rag," it's about as flavourful as too many saltine crackers. I'm sorry! When I heard The W.S. Walcott Medicine Show it was in a world that already had "Rag Mama Rag," I can't change that!
It's a solid tune with saucy trumpet notes and booming tuba, but it has moments of feeling too evenly-paced, too measured. The opening guitar riff is tasty and features throughout the song. It is very likely my favourite thing. There is no standout moment in the track, it doesn't have the same revival tent feel heard on some of their other tracks.
Decent background music for a bar.
7) Stage Fright – AM
Although Stage Fright includes some of the best songs of The Band's catalogue, for me it's somewhat dampened by its production.  Songs like "Stage Fright" really come alive when played on stage and this version is no exception.  The first 35 seconds are a fantastic instrumental showcase of just how strong The Band is as a unit… from Richard Manuel's rhythmic piano and Garth Hudson's organic leads to Robbie Robertson's textured guitar and Levon Helm's minimalistic drumming.  But it's Rick Danko, with one of his best vocal performances, that steals the show.
8) The Night They Drove Old Dixie Down – AA
This is among the many reasons that we're all here. Everything about this performance is superb, from Levon Helm's vocals to the addition of horns. It's odd that this song was written by one of the Canadian Band-members, as it's a tale of the American Civil War. The Band nail this performance down and it anchors the whole album.
9) Across The Great Divide – AA
This might be the one time that the live version doesn't live up to the album version. I think what is missing is the emotional ache in the vocals from The Band version.
10) This Wheel's On Fire – AA
I mostly know this song from The Byrds' cover. The Byrds were big fans of Bob Dylan, covering Dylan's songs more than any other artist. "This Wheel's On Fire" is a slow plodding song that appears on Dylan & The Band's record The Basement Tapes while it has a bit more soul when performed by The Band alone on Music From Big Pink. The song even has a funky lead guitar running throughout the song. The guitar is mixed a bit too low to drive the song on the Rock of Ages version.  
11) Rag Mama Rag – KF
Last summer I watched The Last Waltz for the first time, in a park under the stars. It took no time for me to develop a crush on Levon Helm, and an affection for the rag tag group of weed smoking hippies who were banging out some solid tunes onstage.
It's no surprise, then, that I immediately enjoyed "Rag Mama Rag" on my first listen.
It has all the jangly, fun musical components The Band is known for, cushioned by a fantastic horn section and, since it was the seventies, a few flutes. The lyrics drum up images of trains, sun-drenched dirt roads and stray dogs. The piano sounds like an old upright in a saloon, and the tuba toots the bass line along cheerily. Pure enjoyment.
The members of The Band were all multi-instrumentalists and a sort of musical chairs was performed for the recording. The song's Wikipedia entry explains: "Levon Helm moved to play mandolin, pianist Richard Manuel played drums, bassist Rick Danko played fiddle and producer John Simon played tuba, while organist Garth Hudson played upright acoustic piano in a ragtime fashion."
Excellent music for a backyard romp, or two fingers of bourbon at the end of the day.
12) The Weight – DD
There is something happening in "The Weight" that just doesn't happen in music these days. I think if you laid this song against a grid in Pro Tools, the notes would fall all over the place. There is something to be said for a bunch of guys who all know how to listen, contributing soulful instrumentation with little attention paid to perfection, and 100% attention paid to the musical spirit of a song. The vocal harmonies start and stop at different times while maintaining the smoothest and most buttery tones possible in a live-off-the-floor setting.
13) The Shape I'm In – AA
"The Shape I'm In" starts off in a timid way with a couple of long sustained organ notes before breaking into the song we all know and love. Richard Manuel does a fine job on lead vocals, but it's Garth Hudson's organ that steals the show.
14) Unfaithful Servant – AA
Anchored in the piano, drums, and an earnest vocal performance.
15) Life Is A Carnival – AA
Allen Toussaint's horn arrangement owns this song.
16) The Genetic Method – AA
As an intro to "Chest Fever," Garth Hudson would perform an improvised organ piece. For this performance it is an often gospel-inspired, often celtic-inspired piece. It gets a bit ridiculous, hitting close to the eight minute mark, but definitely highlights Hudson's skills. Probably one of the weaker tracks, but interesting.
17) Chest Fever – AM
"Chest Fever" is a strange song that somehow became a fixture of classic rock radio.  As powerful as the original version is off of Music from Big Pink, this live version is bolstered by Allen Toussaint's horn arrangements, which are a big part of what makes the Rock of Ages album as a whole so wonderful.
18) (I Don't Want To) Hang Up My Rock and Roll Shoes – AA
The closing number for the original release, is a classic rock and roll number, and it feels familiar to have the band performing rock and roll with a '50s flare. Sadly it's a forgettable song.
Disc 2 (Bonus)
1) Loving You Is Sweeter Than Ever – AM
Written by Ivy Jo Hunter & Stevie Wonder and originally recorded by The Four Tops, this is one of several covers that worked its way into The Band's live repertoire.  Absent from the original Rock of Ages release, it is a fantastic addition to the deluxe editions that have come out since.  It also happens to be one of the great underrated love songs of all time, and Rick Danko & Levon Helm do it justice with their great shared vocal duties.
2) I Shall Be Released – MC
3) Up On Cripple Creek – AA
Another classic Band song, but from the first few notes, it's obvious why this was not released on the original record. This version is weak and loses much of the oomph of the original recording. Beyond the familiar melody, there's nothing in this that draws the listener in. A strange contrast to the rest of the album.
4) The Rumor – AA
They misspelled "rumour."
5) Rockin' Chair – DD
The Band felt comfortable calling themselves 'The Band' for a reason. "Rockin' Chair's" lyrics evoke a gut wrenching nostalgia for home. Robertson's words tell a relatable story which serves as a metaphor for countless possible meanings, from a life drug use, to preparing for death, to a reunion with an old friend. But even with such well-crafted evocative lyrics, it is the warm and sensitive harmonies and the loose feeling-filled tempo of this live performance that truly bring you into the tender mood of "Rockin' Chair." You can't listen to this song once.
6) Time To Kill – AA
Somehow this was the A-side to "The Shape I'm In." I think they got that backwards.
7) Down In The Flood – AA
8) When I Paint My Masterpiece – AA
9) Don't Ya Tell Henry – AA
Oh, hi Bob Dylan. My relationship with Bob Dylan has changed over the years. He was good, but the vast majority of his catalogue doesn't interest me in the slightest. "Down In The Flood" starts with Bob Dylan in his most incomprehensible as he and The Band perform a blues number that seems out of place after the charming vocals of Levon Helm.  "When I Paint My Masterpiece" is unlistenable, while "Don't Ya Tell Henry" is a meandering mess. Let's turn this over to another Adam who has a different point of view on Dylan.
10) Like A Rolling Stone – AM
The Band's relationship with Bob Dylan was a cornerstone of their entire career.  In 1966, when they were still The Hawks, British fans booed as Dylan played an electric set with their backing.  "Play fucking loud!" were his instructions as he launched into a blistering version of "Like A Rolling Stone" before the audience at the Manchester Free Trade Hall.  Three years later, at the Isle of Wight Festival, a mellowed out Dylan performed the track with the same band in a much more subdued, almost lazy arrangement (this was the Nashville Skyline-era after all) and a much easier-going audience.  This version is somewhere between the two, and was undoubtedly a fun treat for the audience who decided to spend their New Year's Eve with The Band.
 Authors
AA – Adam M. Anklewicz
I'm this guy. I'm the one who is trying to review all his record collection. I'm the crazy one.
AM – Adam Miller
Adam Miller doesn't write about music as much as he used to when he co-founded, contributed to and edited Being There Magazine.  However, he is still a huge music fan who smiles every time his daughter requests The Beatles or Bob Dylan.
DD – Danger Dean
danger dean is a lesser known Canadian musical artist.
KF – Kristin Foster
Kristin isn't a professional music reviewer by any measure, but she knows what she likes.
 9.25 (77%) |
2.75 (23%)
4.8 (40%) |
5.53 (46%) |
1.66 (14%)
 1 (20%) |
0 (0%) |
2 (40%) |
1 (20%) |
0 (0%) |
0 (0%) |
0 (0%) |
0 (0%) |
0 (0%) |
1 (20%)

0 (0%) |
0 (0%) |
0 (0%)