Recently Canadian heartthrob and rock balladeer Joel Plaskett committed himself to recording and delivering a song a week. He would go into the studio, record a song, mix and master it, and then send it off to the CBC where it would premiere the next day, and then be available for purchase on iTunes. This is Scrappy Happiness the latest Joel Plaskett Emergency record.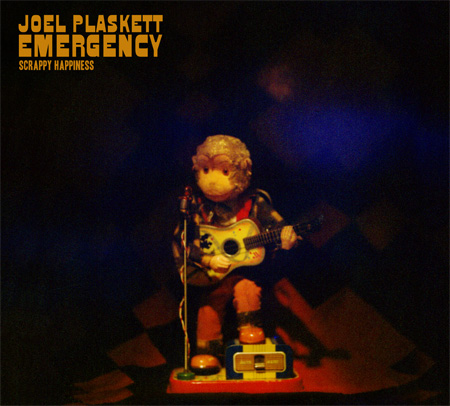 For those unaware, The Joel Plaskett Emergency is Chris Pennell, Dave Marsh, and of course, Joel Plaskett. Plaskett has released seven albums since 1999 and penned some truly classic Canadian songs.
In Need of Medical Attention, Joel Plaskett (1999)
Down At The Khyber, The Joel Plaskett Emergency (2001)
Truthfully Truthfully, The Joel Plaskett Emergency (2003)
La De Da, Joel Plaskett (2005)
Ashtray Rock, The Joel Plaskett Emergency (2007)
Three, Joel Plaskett (2009)
Scrappy Happiness, The Joel Plaskett Emergency (2012)
What is exactly the difference between a Joel Plaskett album and a Joel Plaskett Emergency album is unknown to even the most devout, but Plaskett has made a niche for himself with his blend of country, east coast folk, and rock. Whether he's rocking heavy, or playing with an acoustic guitar his sound is his own and easily recognizable.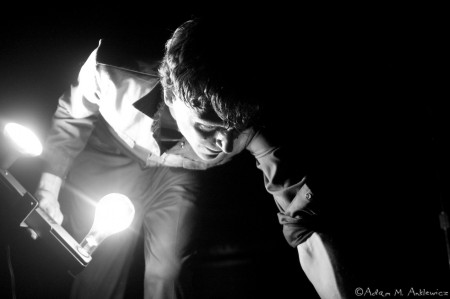 On Saturday night I asked a friend where her sisters were, and she replied that they're "kinda over Plaskett as all his records sound alike." It was that exact same sentimentality which had another interested in going. She hadn't seen Plaskett since 2005, and hadn't heard any of his material since then, yet she felt comfortable going to the concert, as she knew what to expect.
A bit of harsh criticism, but hardly inaccurate.
As the tracks of Scrappy Happiness were released on CBC, I can't deny that I wasn't thrilled with the new material. I was also slightly disappointed that a musician as Canadian as Plaskett didn't rhyme Hüsker Dü with canoe. However, a friend pointed out:
Cut him some slack, this is the guy that rhymed "It's catchin' on" with "Saskatchewan."
However, his material is always good, and he's a great entertainer, so without hesitation I purchased tickets to both shows at the Queen Elizabeth Theatre. For those unaware, the QE is located on the Exhibition grounds near the Lake. It's a large seated venue where I had previously seen both Dan Mangan and The Magnetic Fields (not the same bill). I didn't know if it was general admission like Mangan or assigned seating like The Magnetic Fields. Turns out it was assigned seating, and I had the same seats for both shows (well, one apart). I was right on the side, but only about 10 row back.
Opening the show was Frank Turner, a bloke with a guitar. It's hard for someone with simply a guitar to capture the attention of a large audience, especially an audience there to see another musician, but Turner was able to do that. He had the entire audience singing, and had me so well entertained that I bought his latest album.
Plaskett is another artist who's good at entertaining a large audience with just an acoustic guitar, but he started his sets with the full Emergency band.
The show mostly consisted of songs from the new record, he however threw in a good chunk of songs from Three, but obviously not the complete triple record. Then he rounded out much of the shows with various songs from his other albums. He barely modified the content of the two shows, however, and it seemed a tad silly to attend both.
He played well, the band was tight, but Plaskett seemed to go on too many long and boring tangents mid-song. I should clarify that they were rehearsed tangents. They weren't that enjoyable, and they turned "Work Out Fine" from a 3 minute pop masterpiece to a 10 minute wandering wreck.
When he was on form, he was fantastic; such as when he performed his old Thrush Hermit song "Before You Leave" on Saturday night. Other highlights include "Face of the Earth," "Natural Disaster," "A Million Dollars," and "Through and Through and Through."