For those wondering #EV12 means European Vacation 2012. Much like #ORT12 was Ottawa Road Trip 2012.
I went to The Tate. I liked some of the art. My favourite was this room with only a set of see through stairs on the ceiling, and a railing, but it's all being seen from below. What I really liked about The Tate was people watching.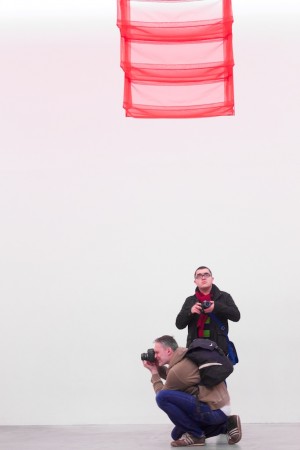 It was quite interesting watching people staring at this object on the ceiling and photographing it.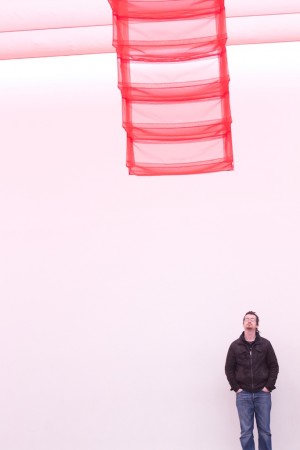 So my legs hurt. I walked a lot today. I woke up at 9, too early, but whatever… I walked to The Tate, as I figured that would be my first stop. I went there, walking along the south shore of the Thames the whole way. When I got there, I did a lot of people watching.
The people were interesting, the art is interesting, the building, not so much. Almost industrial. This might give you an idea.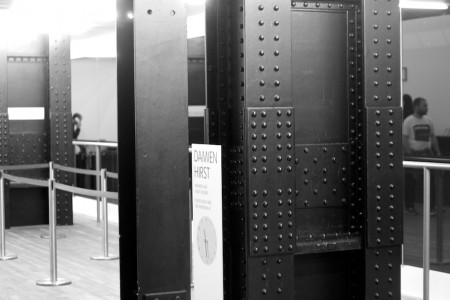 From there I walked to the Clink. Except I thought the Clink was on the north side of the Thames, so I walked across, the Millennium Bridge, then came back across the bridge just east of there. I found the Clink, paid my £7 fee, and was severely disappointed. It wasn't very interesting, wasn't very informative, and it just lacked in many many ways.
Afterwards I went for lunch at Wagamama which was a suggestion by Alicia. How she described it, it sounded like Ginger. From reality, I found it kind of a cross between Ginger and Salad King. I ordered the Spicy Ramen. It wasn't very spicy, but it was good, and there was hot sauce on the table. Definitely an enjoyable meal.
When I sat down I saw above the kitchen area a Symbol wireless access point, the ones that my company used to use until we replaced them with much better APs1. The Symbol ones were decent, just weren't able to handle the demand we put on them. I asked and got access to the internet, which made me feel better. It's so very strange not having internet where ever you are. It's a sense of isolation. OH! And the hotel is CHARGING me for wifi. It's £5 for the week, not the end of the world, but it was in their ad.
The room offers one twin or one double bed with Internet access-wireless, cable/satellite TV, telephone, coffee/tea maker, wake-up calls, hair dryer, iron/ironing board and clock radio.
There's no coffee/tea maker2, there isn't a hair dryer, which I don't need because my hair is barely an inch long, and no iron or ironing board, which I could actually use, but there's nowhere to actually put one.
Nor are there any outlets to plug an iron into! There are two outlets. One for the TV, up high on a wall, and one for alarm clock/phone which is in the back of the wardrobe with a hole drilled in to get the power to the ledge above the bed.
It's not a major thing as I only have one British to North American plug3 But it would be nice to have a bit easier access to power, as I will need to charge my iPhone nightly. I'm using it quite a bit for maps, and shit. I've been taking screenshots of Google Maps when I have wifi, and then pulling up those screen shots, so I can check it out when I'm getting to the neighbourhood. It's actually working quite well, one downside is if you're going the wrong way, you have the blue dot telling you that.
On that note. I'm going to stop typing and perhaps write a couple more postcards before I leave for a concert.
…
While in Camden, I stopped in a bar, because they have wireless. I ordered a Pimms & Lemonade4 and sat on the rooftop patio with my laptop and a pair of headphones. I was going through tons of show listings for the city, and I came across Grant K. Fennell, he was the first one I checked out who wasn't utter shit. His songs were actually nice and pleasant. He was playing at The Lamb, which is near Highbury & Islington station on the Victoria line. I'm staying not far from the Victoria line, HUZZAH!
So I went back to the hotel, and plotted… and by plotted, I mean I wrote some postcards, wrote all the above. Then around 8pm, I left. I got to the pub. The pub was called The Lamb, I asked for the wifi password, it was "lamblamblamb" and as Nick says:

I didn't recognize most of the beers on tap. It's strange and nice… no ability to order a Beau's, it means I can drink something new for once5. She gave me some Pale Ale, she had a funny accent, English, I think, so I didn't really catch what it was, but it was decent, MUCH better than last night's. The beer is £3.90. I think that's a strange price. I'd imagine that they'd make it £4.10 or something so that you don't only have a pound and a 10p piece, hard to tip with if you don't want to give a pound.
I did, however want to give a pound, so I left the £1.10 on the bar, and walked to grab a seat on a couch. The bartender comes up to me and says, "you left your change on the bar." I look at her inquisitively and say, "it's a tip."
Apparently I'm the first person in her entire bartending career to ever give her a tip6. She didn't even know what to do with it. So here's a message to you Brits. Don't be an asshole, tip! Show your appreciation for the person who's helping you get smashed!
Then they started to play Stereolab in the bar… could they have made my day better? I actually listened to Stereolab on my to the bar.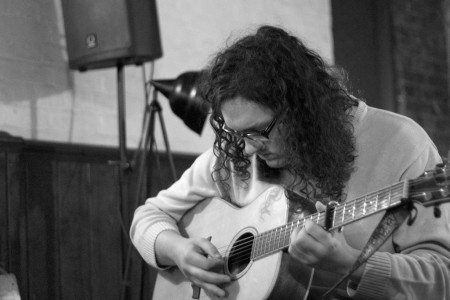 Grant started playing… he played some acoustic guitar, it was good, I enjoyed him. I for some odd reason decided to take out my camera and shoot. I know, a shock… It's not like I've ever shot at a show before. I also shot some video, for use in my #ev12 retrospective. This one will have fewer sexy ladies than #ORT12.
I then put my camera away, and ordered a cider called Harry Sparrow. It was good. I think it's better than Strongbow, but not as good as Black Thorne. After Grant finished performing, I hung around a bit, finishing my pint, listening to some young women discussing their love lives, and reading Twitter. I held back from posting information about their love lives on Twitter7. From there I decided, DINNER TIME! So seeing as it's Erev Pesach, I went looking for matzah. I couldn't find any. I went into a restaurant and was told "we're closing." I went into another restaurant and was told "we're closing." It wasn't even 11pm, yet! Seriously London, wtf is with your early hours. Are you 808? This is slightly ridiculous. I think it's bad enough that most places are closed around 1 or 2 in Toronto, but 11 is just ridiculous.
Any way, to bed I should go, because waking up at 9 won't do me, as I have to be Parliament for 9:15. Yup, tomorrow, I tour Parliament. Which I want to call Parliament Hill, but their Parliament is not on a hill, it is on a shore.
After my tour of Parliament, I'm going to try to go see a matinee performance of All New People starring Zach Braff, and written by Zach Braff.
After that… to a burlesque/circus show that sounds interesting. Though I doubt it can be as good as Boylesque TO.