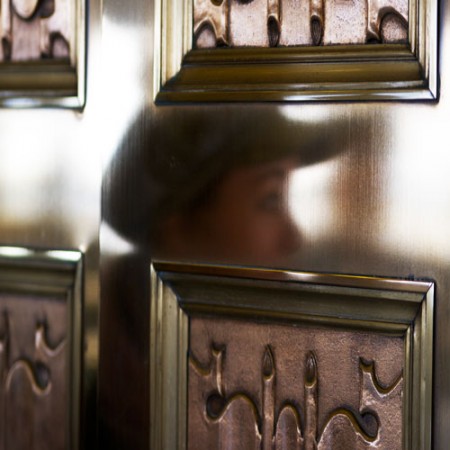 When the Open Road Is Closing In ((Disclaimer, I'm writing this at 4:04am, in a hotel room with three others. They are fast asleep, and I have the sound off on my computer, so if any of the links aren't playing any of the songs. I'm sorry.)) by The Magnetic Fields
I was originally thinking of opening the road trip with this song, but the previous choice was much better for obvious reasons. This song begins with the lyric "Time; measured in dotted yellow lines has passed you by." Merritt paints a brilliant picture of the feeling of a long drive on highways of emptiness. Merritt's lyrics are in top form.
Oh, Alberta by Elliott Brood
For those unaware, while the song might be called "Oh, Alberta," it's actually a song about Ontario.
Don't Worry Baby by The Beach Boys
This is my all-time favourite Beach Boys song. I'm actually not a big Beach Boys fan, but this song, just does it so perfectly. It's pop mastery.  I wanted to have a lot of old classics, and intermingle them with more "modern" songs.
North Star by The Rural Alberta Advantage
So here's a more modern song, from the RAA's latest record. Again, examples of pop mastery. Nils writes simple, but catchy songs, and when you add Paul's unique drumming style to it, you get something wonderful.
Rave On by Buddy Holly
As much as I love Buddy Holly's bigger hits, this is perhaps the best early rock song. It's very raw, and powerful, it easily could have been a brilliant punk song, and what's punk other than a rehashing of '50s rock?
Proof of Love by Old Man Luedecke
I was hanging out in Fredericton, NB drinking beers with Serge of Hay Sale Records, and he suggested I check out Old Man Luedecke when I got to Halifax, I didn't. What I did do, however, was wait about three or four years, and then finally purchase the record, and fall in love with a few tracks, including, but not limited to the title track, "Proof of Love."
Will You Love Me Tomorrow by The Shirelles
I love this song. I also love the '60s girl groups. This is a great group sing-a-long song.
Hasn't Hit Me Yet by Blue Rodeo
Another great sing-a-long. I think every Canadian of my generation knows the lyrics to this song. Now the question is, when it gets to the end of the song, do you prefer singing Greg's or Jim's parts?
Be My Baby by The Ronettes
Another great girl group song from the '60s. Sure it doesn't get me giggling like John Lennon's cover, but it's still rather brilliant. I think this song proves that no matter how much of a nut case Phil Spector is, he's brilliant.
Suspended From Class by Camera Obscura
This Belle

&

Sebastian wannabe band never did it for me. They do nothing original and in addition to that, their songwriting is generally pretty weak. The exception is "Suspended From Class" which is a great pop song that I have trouble removing from my brain.
Try Some, Buy Some by Ronnie Spector
Now Ronnie's on her own, with the Ronettes, and this time she's releasing a single for Apple Records. The song is George Harrison's "Try Some, Buy Some."  Not really a hit, at least not with lasting power. The George Harrison version, however is quite popular, and it wasn't too long ago that David Bowie covered it. I think most people will know some version of this song.
Blank Girl by Dum Dum Girls
For the longest time I thought the lyric was "I can't wait to see you naked," but apparently it is "I can't wait to see you make it."
Roadrunner (Twice) by Jonathan Richman

&

The Modern Lovers
I wouldn't necessarily call The Modern Lovers hitmakers, but it's a great car song.
The Wanderer by Dion
Not the best example of… music, but it's got something catchy. It's fun.
Future Crimes by Wild Flag
J'adore.
He's So Fine by The Chiffons
Oh yeah! Gotta be mine. I've loved this song for a ridiculous amount of time.
My Love by The Bird And The Bee
This one was introduced to me by my friend Julie. The album's not brilliant, but has a few moments that make it worth while.
Da Doo Ron Ron (When He Walked Me Home) by The Crystals
Another classic girl group. This playlist might make me wonder my sexuality if it had a showtune or two.
I'm Afraid Of Americans by David Bowie
Another classic for my generation. This is a '90s Bowie hit. Who doesn't love singing, "God is an American."
Oh No by Andrew Bird
So, when I edited the video, which hopefully was posted yesterday, I forgot this song was on this play list.
It Could Be Love by Camouflage Nights
This is the only released song by Camouflage Nights, a failed attempt at a band by a couple former Thrush Hermits. It's a fun pop-dance song.
Tied To The 90's by Travis
Well, I think that a couple of folks in their early 30s can be described simply as this, tied to the '90s (not as bad as the '80s).
You Can't Hurry Love by Diana Ross

&

The Supremes
Back to the girl groups one last time. This is probably the ultimate in '60s girl groups.
Deus Ibi Est by Isobel Campbell

&

Mark Lanegan
Lanegan's deep baritone and  Isobel's wee soprano always seem to work well together.