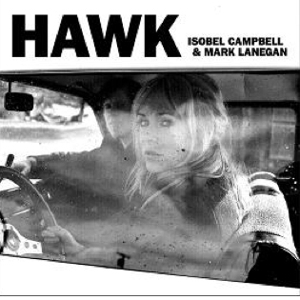 Hawk by Isobel Campbell
&

Mark Lanegan

This album can only be described as pure beauty. The insanely high and twee voice of Campbell's matched with the gruff, deep, strained voice of Lanegan are perfectly matched. The album starts off with "We Die And See Beauty Reign," a soft sober song, which brings the listener into this vocal pairing. Immediately after, it gets heavier with one of the highlights, "You Won't Let Me Down Again."

Campbell, who wrote all but two of the songs1, isn't afraid to play around in genre. The soul song "Come Undone" could easily fit on a Sharon Jones record, and doesn't sound out of place on this record at all. Then there's the rockabilly "Get Behind Me," and the folk "Cool Water" in which Campbell ditches Lanegan temporarily in favour of Willy Mason. Then there's "To Hell & Back Again" which wouldn't be out of place on a Gentle Waves2 record.

Fantastic record.
Travellers in Space and Time by The Apples in stereo
The Apples In Stereo have been around for a long time as the definitive pop band of the '90s. Their sugary melodies have made a name of Robert Schneider's songwriting. Travellers in Space and Time is their first record without Schneider's ex-wife Hilarie Sidney, who would traditionally provide one or two songs per album. While her songs were never what defined the band's sound, they were always a highlight, and it feels as if that's missing from the record.
The album lifts heavily from the early disco sounds which Toronto's new mayor is a big fan of. Unfortunately it's not a song that can easily support a full album, let alone an hour long, sixteen track record.
There are definitely highlights, among them are "Hey Elevator" and "C.P.U." but the record is too much of a rehashing of other things they've done. The aforementioned "C.P.U." could have easily fit it with Her Wallpaper Reverie.
Give'r a pass.
The Shilohs by The Shilohs
I was in Vancouver, and my ex-sister-in-law, who was nice enough to show me around the city, took me to Zulu Records. I asked the employees there to recommend a few CDs. They gave me a few options, and this one stuck with me. Turns out he, along with his fellow employees were in the band. The EP is a a throwback to post-Gram Parsons 1970s country-rock, they do very well at emulating what those who once emulated Parsons himself, such as The Rolling Stones.
The EP's a nice snack of six songs, easily taken in, and will be interesting to see where this band goes from here. If they come to Toronto, I'd certainly head out to see them.
The others being Townes van Zandt covers. [↩]
The name Campbell released two albums under while still in Belle

&

Sebastian. [↩]