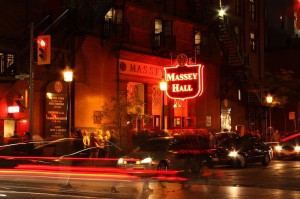 Massey Hall is arguably Canada's greatest venue. It's the right size, it's beautiful to look at1, a perfect location, and most importantly, the sound… the sound is what a great concert should be.
Belle & Sebastian, you fucked that up. The sound was muddy, at best. The vocals were buried, and for a band who prides themselves on the harmonies, this is a shame. Chris Geddes' keyboards could barely be heard and your backing string section was made mute.
Then halfway through the set an angel appeared, a bearded, bespectacled man shouted from the fifth row "TURN UP THE VOCALS!" Mick Cooke and Bobby Kildea started in on the opening riff, frontman Stuart Murdoch joined in, walked over to the microphone and sang "I'm glad to see you, I had a funny dream and you were wearing funny shoes." That bearded dreamy man looked to his concert going friends and was in shock at how crisp and clear the vocals suddenly were. Sure, the backing music was still muddy, but the vocals were gorgeous, and just in time for the beautiful "I'm A Cuckoo."
The backing music slowly picked up and became the stunning sound that Belle & Sebastian are supposed to be, and the rest of the set was more than a delight.
Belle & Sebastian played a range of songs from Stevie Jackson's "(I Believe In) Traveling Light" to their new title track "Write About Love" to an attempt at "This Is Just A Modern Rock Song," which broke down after only a few lines, as Stuart didn't remember the epic song. They played a new jazzier "Piazza, New York Catcher" with a walking-country bass line, during "Lord Anthony" Murdoch got some mascara from the audience. They invited audience members on-stage to dance to "The Boy With The Arab Strap" and were joined by a girl who I'd guess to be 9 years old dancing along. They played "Simple Things," and "Judy And The Dream of Horses," and "Dog On Wheels!"
What really stood out however, was their main-set's closing number, "Sleep The Clock Around." While I've never been a huge fan of that song, I was in awe and thrill as I listened to that song. The sound was perfect for that perfect closer.
Photo by Nephron.
Inside [↩]