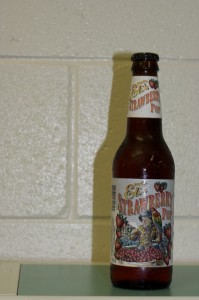 I visited a shop in Whitby called Soda Pop Centre. These are my stories.
Capt'n Eli's Strawberry Pop
355ml
Ingredients: Water, cane sugar, natural and artificial strawberry flavours, Red 40, citric acid, and sodium benzoate.
Linky link.
So, it's been a fruity three weeks, we had tangerine and peach in the previous weeks, now it's strawberry's turn. I think next week will have to be another root beer, but who doesn't love a root beer?
I don't recall ever having strawberry pop before, but it's good. It reminds me of a strawberry wine, but not alcoholic (sadly), but we can adjust that surely. It's quite sweet, but also quite refreshing .
Note on photo: I'm slightly embarrassed by this photo. Starting next week, I used my lighting rig, it should get much better.