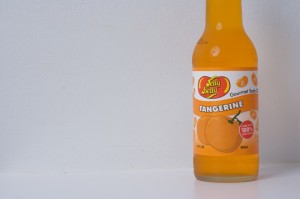 I visited a shop in Whitby called Soda Pop Centre. These are my stories.
Jelly Belly Gourmet Soda: Tangerine
355ml
Ingredients: Filtered carbonated water, cane sugar, citric acid, sodium benzoate, natural flavours, sodium citrate, and FD&C Yellow #6.
Linky link.
This one's quite delicious. It tastes like a cross between an actual Jelly Belly and a freezie. With just a hint of sour, a bit more bubbly than the Nehi, it's very distinct1.
Though, the Nehi is the better of the two [↩]